Entertainment
Complete Guide: How to Watch 'Yellowstone' Season 5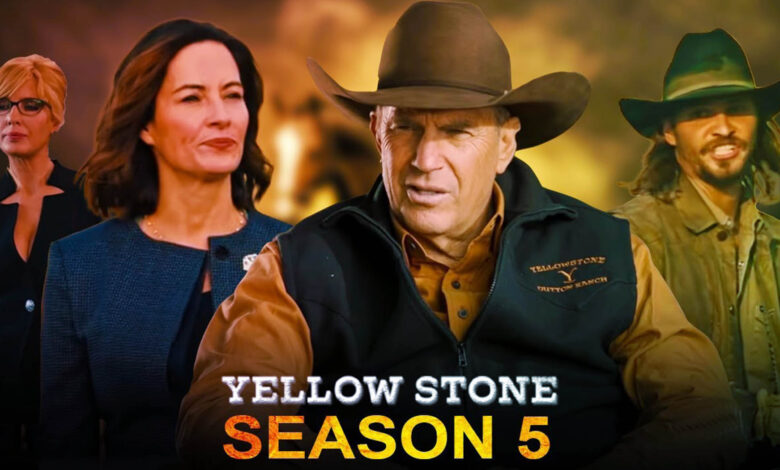 Introduction
"Yellowstone," a thrilling and intense drama series, has garnered a dedicated fanbase since its debut. With its intricate storytelling, complex characters, and a backdrop of the sprawling Yellowstone ranch, it's no surprise viewers eagerly anticipate each new season. Season 5 has been no exception, with buzz and excitement reaching a fever pitch. If you're among the many looking to dive into this new season, this guide will detail everything you need to know about how to watch "Yellowstone" Season 5.
Why 'Yellowstone' Season 5 is a Must-Watch
Before we delve into how to watch, we must understand the importance and excitement surrounding Season 5. "Yellowstone," since its inception, has artfully navigated the murky waters of family dynamics, loyalty, power struggles, and the complexities of managing the largest contiguous ranch in the United States. Season 5 promises more intrigue, with rumors of new characters, unexpected alliances, and plot twists that will keep fans on the edge of their seats. For those following the Dutton family saga, missing out on this season is not an option.
Official Broadcasting Channels
The most straightforward way to catch up with "Yellowstone" Season 5 is through its official broadcasting channels. Here's a breakdown:
Paramount Network: As the official broadcaster of "Yellowstone," Paramount Network is the go-to channel for most fans. Check local listings for timings, which can vary based on location.
Paramount+ Streaming Service: If you're a fan of streaming, Paramount+ provides the entire "Yellowstone" series, including the latest episodes from Season 5. This subscription-based service ensures you're signed up and ready to binge.
Alternative Streaming Platforms
Only some have access to the Paramount Network or prefer other streaming platforms. For those individuals:
Peacock: NBCUniversal's streaming service has also acquired rights to stream "Yellowstone." It's a viable option for those who already have a subscription.
Amazon Prime Video: You can purchase individual episodes or the entire "Yellowstone" Season 5 season on Amazon Prime Video. It's an excellent option for those who want to own the episodes.
Viewing Tips for the Best Experience
Watching a series as gripping as "Yellowstone" is not just about hitting the play button. Here are some tips to enhance your viewing experience:
Binge with Care: While watching episode after episode is tempting, take breaks to process the complex storylines and character developments.
Recap Previous Seasons: Before diving into Season 5, consider revisiting key episodes or recaps from previous seasons. It'll provide context and enrich the new season's experience.
Engage with the Community: Join online fan forums or follow "Yellowstone" social media pages. Engaging with fellow fans can make watching the series even more enjoyable.
The Legacy of 'Yellowstone' Throughout its previous seasons, "Yellowstone" has woven a rich tapestry of stories resonating deeply with audiences. From John Dutton's staunch defense of his family's legacy to the fierce battles over land and power, every episode has provided a cinematic experience. Season 5 is expected to build upon this legacy, further delving into the intricacies of the characters we've grown to love (or loathe) while introducing new dynamics that promise to challenge the status quo.
What Critics are Saying
The arrival of each new "Yellowstone" season is always met with fervent anticipation by fans and critics. Early reviews indicate that Season 5 maintains the series' high standards. Critics have praised its ability to balance intimate character moments with grand set-pieces, further solidifying its position as one of the must-watch TV dramas of our time. As with any show, reviews vary, but the consensus seems clear: "Yellowstone" Season 5 is not to be missed.
Character Arcs to Watch
Every season of "Yellowstone" gives viewers a closer look at the evolving arcs of its diverse cast—season 5 promises to delve deeper into the psyches of critical characters. Watch for Beth Dutton's continued journey of resilience and vulnerability. Likewise, Kayce Dutton's balance between family duty and personal aspirations will offer more compelling moments. New characters are also expected to be introduced, providing fresh perspectives and potential rivalries in the already-tense world of the Dutton ranch.
Behind-the-Scenes: The Making of Season 5
"Yellowstone" is as much a product of its stellar cast as it is of its production team. Season 5's behind-the-scenes glimpses have showcased the immense dedication that goes into creating each episode. From intricate set designs that bring the ranch to life to detailed costume choices reflecting each character's essence, the crew's effort is evident. Interviews with the cast have also shed light on the passion and commitment they bring to their roles, further elevating the show's quality.
The Future Beyond Season 5
While fans eagerly dive into Season 5, many speculate about the series' future. Will there be a Season 6? We can remain optimistic if the show's consistent delivery of top-notch content and its large, dedicated fanbase are indicators. However, as with any series, the key will be ensuring the narrative remains fresh, engaging, and true to its core themes.
Final Thoughts
"Yellowstone" Season 5 continues to showcase the brilliance that fans have come to expect from the series. Each season, the narrative becomes more affluent, the characters more profound, and the stakes even higher. This guide aims to ensure a seamless viewing experience for longtime enthusiasts and newcomers. As the Dutton family saga unfolds, how we engage with the content can profoundly impact our enjoyment. Whether you're streaming, discussing with fellow fans, or simply immersing yourself in the world of the Yellowstone ranch, it's evident that this show remains a cultural touchstone. Happy viewing, and may the drama of the Dutton family keep you captivated through every twist and turn.