Business
Top 6 Business Ideas In 2023 | The Business Guide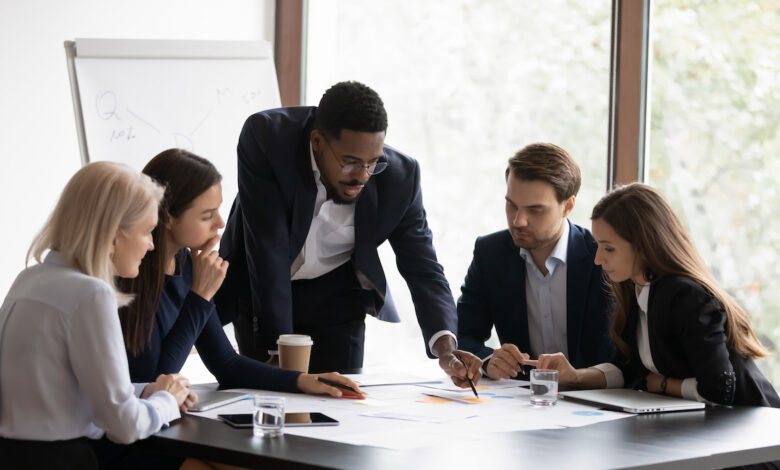 In the modern world, business is highly significant. This imaginative competitive process continually moulds our society. Businesses raise people's living standards by fulfilling their needs and want that humans cannot obtain alone. Keeping on top of developments and spotting fresh, exciting chances in today's dynamic, ever-changing business environment is critical. As 2023 approaches, various innovative business concepts emerge, allowing entrepreneurs to make their mark across many industries. These top six company concepts for 2023 have a huge potential for growth and success, from leveraging technology to fulfilling changing customer wants. In this article, we will be discussing the Top 6 Business Ideas of 2023.
2. Digital Marketing an Emerging Business
Online advertising is a great business idea. It is a fresh and quickly developing sector in the business world. Businesses of every size have come to understand the importance of developing an established online presence to connect with and motivate the customers they want due to the development of the world wide web and the rising use of digital technologies. There are methods and instruments for digital marketing that can be used to advertise goods and services, build brand recognition, and enhance client acquisition and retention.
The Covid-19 pandemic profoundly changed whether businesses function. This renders fresh company ideas possible. In light of safety and security questions, multiple companies have chosen to sell their goods digitally and transfer interactions with customers online. The internet is now widely used for everything from apparel to food and medicines on prescription. According to a poll, there will be 4.9 billion internet users worldwide in 2021, up 400 million from a year earlier. Even though we say it all at the moment, consumer behaviour has been changing along with how consumers shop and make decisions.
To improve sales, you must also target consumers online because they already consume media. For these reasons, businesses cannot solely rely on offline advertising. Therefore, making money through digital advertising is a great business concept.
2. Online Tutoring a Profitable Business Idea
The trend has recently become popular, and it has taken over the traditional education system, which opens more and more opportunities for people to earn. Indian research shows that From 2020 to 2025, the market for online tutoring services in India is anticipated to increase by $14.76 billion, expanding at a CAGR of 15.96%. After China and the USA, India is one of the top three nations in the world for receiving venture capital funding in the tech sector
The market for online tutoring is expected to rise dramatically as a result of a number of variables, including the low cost of online education, government-led programmes to promote e-learning, an increasing number of internet users, flexibility, and customizability. Although the rapid expansion of digitalization and internet access aided the tutoring sector in certain ways, the pandemic completely altered the trajectory of growth for this new business idea. It is known to be the most profitable business idea of 2023 since the demand for academic support and personalized education has increased exponentially.
3. Earning through translations a New Business Idea
Earning money through translations can be a feasible and possibly profitable business venture, particularly in a globalized world where businesses and individuals demand translation services overcome linguistic obstacles. Here are some things to think about when starting a translation business. If you speak two or more languages, you should think about creating a small business where you can make money off of your abilities because multilingual people are constantly in demand.
On Upwork and Flexjobs, you can look for clients as you gradually expand your clientele. You can employ more language-specific translators as you operate successfully with more businesses to relieve some of your workloads. Marketing your company on social media platforms is also a smart move because it may help you connect with more people. Have only a few hours a day to spare? One of the best side business opportunities to explore is translation because it allows you to schedule your clients according to your availability.
4. Professional Fitness Trainer
A traditional fitness business idea is one of the popular ones in 2023. As a personal trainer, you spend your days working one-on-one with clients to assist them in reaching their fitness objectives. Additionally, no two days are alike exactly. You might devote one day to creating unique training schedules, another to giving dietary recommendations, and yet another to encouraging and supporting them along the way. Excellent communication skills, an expert-level understanding of exercise, anatomy, and nutrition, as well as the ability to modify your approach to accommodate any client are necessary to develop a personal training business that endures. But keep one thing in mind As a fitness trainer; you need to get a respectable certification.
Your credibility can be increased, and you can show that you are knowledgeable and skilled in the subject by earning certifications from groups like The International Society for Sports Sciences Association (ISSA), the American Council on Exercise (ACE), and the American Academy of Sports Medicine (NASM).
5. Developing Servicing Applications
A doorstep bike maintenance platform and application that will leverage technology to make two-wheeler owners' lives easier by connecting them with expert automotive maintenance companies. The online platform can provide supported doorstep delivery and pickup services, a waiting time-reducing inventory management system, enhanced stock allocation, and a system for handling orders. , and so on. Uber and Old's cab services have raised the bar for the industry, inspiring more businesses to enter it and hire app developers. With their on-demand taxi booking services and various income structures, they are also seeking methods to experience the same success.
It predicts that from $23.42 b in 2020 to $28.65 billion of dollars in 2021, the worldwide market for online cab services will increase at an average CAGR of 22.3%.
6. Food cart
Create a distinct and attractive business idea for your food cart. Think about the target audience, regional culinary trends, and clientele preferences. Develop a menu that features scrumptious, premium, and reasonably priced food selections to set your cart apart from rivals. Due to their natural flexibility and nomadism, food trucks are a popular choice for entrepreneurs wishing to launch a small business. You don't have to stick to one market when you have a food truck because you may provide customers with a distinctive culinary experience at multiple locations and occasions. It's a fantastic approach to establishing a brand and dangling your toes in the hospitality industry.
A cart of food is thought of as a highly lucrative food company idea because it needs fewer resources than a formal dining establishment. This alone is an advantage for operating a food van as opposed to a regular restaurant since the money saved on setup can be put toward marketing or menu development. The only significant outlay is buying the car, which may be minimized if you utilize the growing food van renting market.
Conclusion
Thus, entrepreneurs that are prepared to embrace innovation and capitalize on new trends will find a wealth of fascinating company ideas in 2023. These business concepts have a huge potential for development and success, from personalized e-commerce and digital marketing to app development, sustainable business models, and online tuition. Entrepreneurs can put themselves at the forefront of their respective industries by utilizing technology and capitalizing on changing consumer expectations, paving the road for a bright future.